VB-S30VE
An easy-to-install weatherproof and vandal-resistant compact PTZ camera featuring a bright zoom lens and a built-in microphone to add new layers of detail.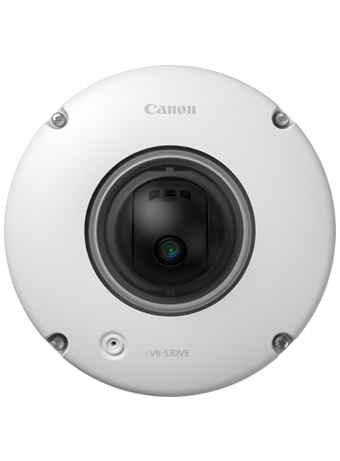 Prednosti
Capture everything with the VB-S30VE's bright f/1.4-2.6 lens, pan, tilt and zoom functions and superb low-light performance
Full HD imaging and 3.5x optical zoom with low-distortion aspherical lens elements for pin-sharp images
Record clear, high-quality audio with the built-in omni-directional microphone
Lightweight, compact and easy to install with IK10 impact and IP66 weatherproof protection
Motion Adaptive Noise Reduction and Area-specific Data Size Reduction (ADSR) maintain video quality while reducing data size
Intelligent on-board analytics functions for advanced alarm detection
Live monitoring and management from a broad range of supported web browsers and mobile devices
ONVIF® Profile S compliant
Podrobne značilnosti
Podrobneje si oglejte izdelek Canon VB-S30VE
Full HD imaging

See more detail with the Canon VB-S30VE's 3.5x optical zoom lens, 2.1 MP Full HD imaging, 1/3" CMOS sensor, accurate aspherical lens elements and enhanced minimum subject illumination for superior low-light performance. To optimise image quality and control data usage, Motion Adaptive Noise Reduction dynamically controls noise reduction levels when detecting moving objects or when experiencing digital noise caused by low-light conditions.


See more, hear more

The VB-S30VE can monitor much more than just images. Its built-in omni-directional microphone adds a new layer of high-quality information by recording speech up to a distance of 4 metres, all while filtering out background noise and unwanted echo. The microphone also provides audio alarm trigger functions, so the camera can be configured to begin recording when sound is detected.


Easy to install and manage

Light, compact and durable, the VB-S30VE is also quick and simple to install, keeping project costs to a minimum. The included 1-metre pigtail cable provides easy and direct access to an array of camera connections, and Canon's Camera Management Tool offers powerful setup and management functions for individual or selected groups of cameras. Conduit box fittings and a pendent mount are also available, offering further installation options.


Vandal- and weather-resistant

The VB-S30VE is designed to last. Both vandal- and weather-resistant, it is weatherproof to IP66 standards, certified impact resistant to IK10 and remains fully operational at temperatures ranging from -25˚C up to 50˚C.


Intelligent alarm detection

With 15 on-board Video Content Analytics profiles, camera operators can conduct surveillance tasks efficiently and effectively. Intelligent analytics provide multiple virtual alarm detection functions, actively alerting operators to suspicious behaviour while helping to minimise
Specifikacije izdelka
Podrobneje spoznajte izdelek Canon VB-S30VE, njegove funkcije in zmožnosti.

Upravlja kakovost in nadzor slik

Učinkovita omrežna obdelava

Optična povečava visoke kakovosti

Razširjene možnosti povečave



Samodejni pametni nadzor senc




Potrjena zaščita proti udarcem

Odporen na vremenske vplive
Dodatni dokumenti
Orodja za oblikovanje sistema
Kalkulator vidnega polja (AOV)
Kalkulator potrebnega prostora na disku (RDS)
Simulator fotoaparata (CLS)
ali